Humankind has cohabited with animals for as long as people have recorded history.  Wherever humans have gone on their two legs, there's been four-legged furry, fuzzy, hairy, woolly companions at their sides.  Whether you're a cat fanatic, a dog person, an equestrian or just an all-around animal lover we can all agree that the critters we know and love make our lives that much better.
We live in an era in which our animal companions are living longer, but there's also a lot more health concerns around every corner.  Our beloved pets have access to increasingly beneficial nutrition, medicines and health care – and for many of us, there's nothing we wouldn't do for our pet's well-being and quality-of-life.  Nevertheless, our cats and dogs can suffer from an ever expanding list of ailments and it can be a struggle to stay on top of your pet's health problems.
Although we've brought our pets out of the wild and into our societies, our homes – and most importantly, our hearts – we want to help your furry loved ones live happy and live healthy.  Our dogs and cats are loyal almost to a fault. Our pets can struggle to avoid harm in the human world of chemicals, toxins, environmental changes and physical dangers, but like any loving furriend they do their best to tough it out and stick by us.
There's nothing more sad and frustrating than an injury or illness afflicting your pet, and nothing more devastating than the feeling of not being able to help.  In our world, everything is made by humans, for humans – but Verlota is here to offer something made by nature, for the benefit of all.

Your Pet's Well-Being Is Our Goal
Just like you, we adore our pets and we are dedicated to ensuring the best quality of life for them. We are here to help your furry friend achieve all the woofs, wags, purrs and cuddles that life has to offer.
Our pet products are formulated with 100% hemp-derived CBD, are non-psychoactive and are safe and easy to include in your pet's everyday routine.  Did we mention our treats and tinctures are easy to administer?! Hemp-derived CBD is formulated in a variety of different dosing techniques to accommodate all pets – even the picky ones!  CBD Dog treats are simply delicious – for your pets, that is – and can be taken on your trip to the dog park. CBD Oils can be taken under the tongue, introduced into food or even mixed into water – and the best part is, you can customize the dose that suits your canine or feline. Not sure how much CBD your pet needs? Use our FREE Dosage Calculator to get your best bud the right amount of CBD to help them feel better, faster!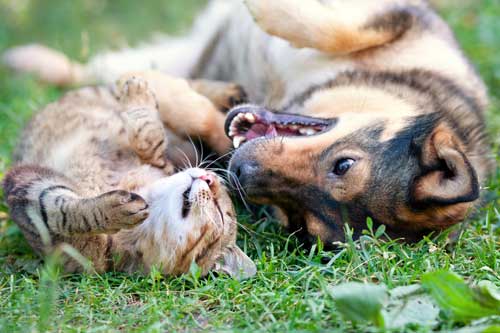 We love pets as much as you do, and we are keen on providing quality solutions which guarantee long-term pet health. We are confident that you will discover the countless benefits of our CBD products, and you'll soon join the growing number of revitalized pets and happy owners.