Who doesn't love sleep? Whether it's a long night's sleep after a hard day or a midday nap that restores your energy, sleep is pivotal when it comes to the body recovering and working at its highest level. Our bodies & minds require long periods of sleep in order to restore and rejuvenate, to grow muscle, repair tissue, and synthesize hormones. The importance of sleep isn't just about resting, it's also critical to induce dreams, reset your systems and shake off the build up of stress, anxiety and fatigue we encounter each and every day. Sleep can influence weight gain, brain strength, calorie regulation, balance moods, lower inflammation and boost your immune system.  Outside of nutrition, sleep is one of the most impactful components of our health & fitness. 
Optimal sleep is the heart of how we are able to manage the other 4 elements, but it is often one of the most overlooked parts of any healthy regime. There's never enough time in a day to accomplish all we set out to, but if you're sacrificing sleep for work, play or time with family you might be at risk of jeopardizing your mental & physical wellbeing.  How can you optimize your sleep without taking away from the things you love or need to do in a day? Simple: improve the quality & consistency of your sleep with hemp CBD.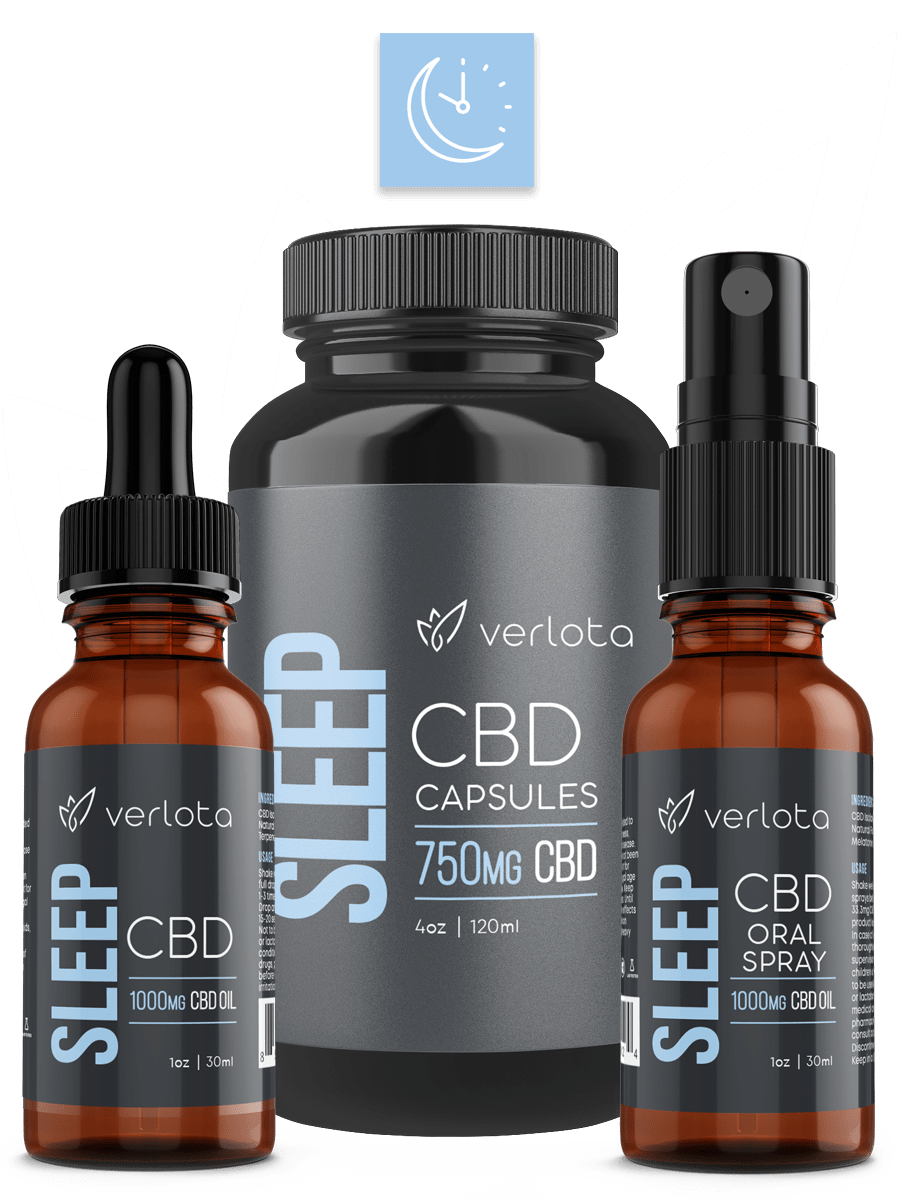 Verlota's SLEEP CBD has a leg up on other sleep aids because this plant compound was designed to interact with our body's systems with no negative side effects. Your Endocannabinoid System (ECS) is a network of cannabinoid receptors in the brain and throughout the central nervous system.Within your ECS there are two primary receptors: CB1 and CB2. When you rely on Verlota SLEEP CBD the cannabinoids sync themselves to these cells, directly influencing rest & relaxation through stimulation of the CB1 and CB2 receptors. This enables your mind & body to synchronize, attuning your sleep/wake cycle.  Not only does hemp CBD improve the consistency & quality of your sleep, but Verlota SLEEP CBD can decrease anxiety, pain, inflammation, gastrointestinal issues and much more.
BALANCE
The standard for growth and daily function.
ENERGY
Positive physical and mental energy powers us through life.
IMMUNITY
A strong immune system is the key to living a healthy life.
CALM
A relaxed mind produces a capable body.
SLEEP
Optimized sleep allows peak performance.