CBD is currently one of the most in demand ingredients every food connoisseur want's to put into their foods, this is down to the promising health benefits that come with CBD, from helping with nausea, inflammation, insomnia and reduced anxiety, CBD infused recipes add that nutritional value for your brain that specific foods can't offer.  For those unfamiliar, CBD is the second highest naturally occurring chemical compound found in cannabis plants. Now you may be asking yourself, I'm not here to get high while eating my food. Not to worry, CBD is the non-psychoactive element of cannabis, so there is absolutely no way you will feel "high" when consuming CBD infused recipes. 
How To Apply CBD To Your Food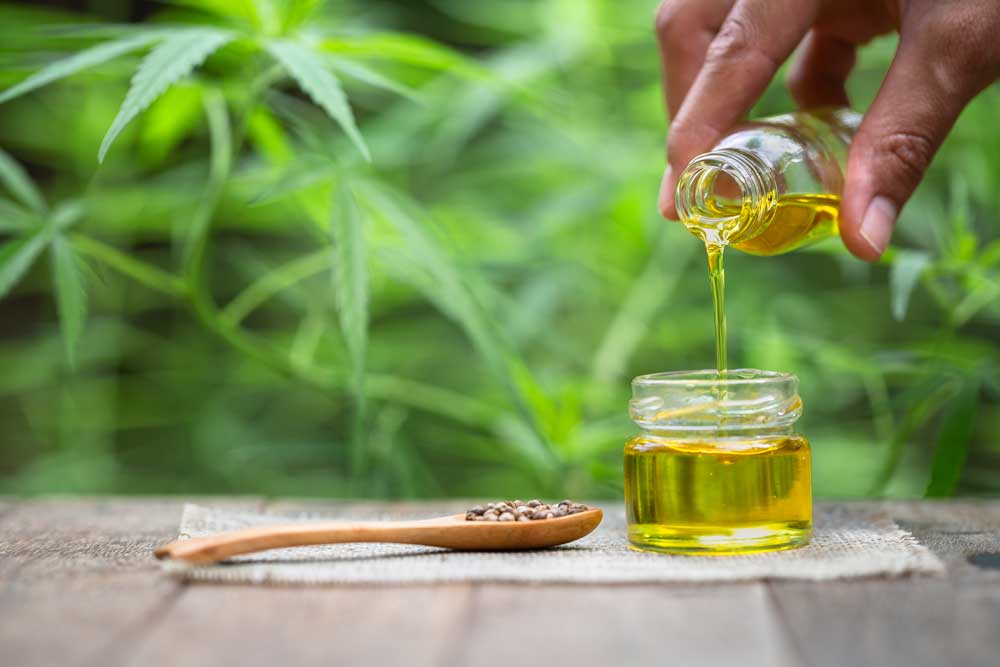 Before we get into our delicious CBD recipes, lets take a closer look at a few things you'll want to consider before cooking up some CBD recipes. There are some technical approaches that should be taken when considering cooking CBD infused recipes. First, CBD needs to be extracted into a fat when used for cooking purposes, CBD is a cannabinoid which means it's lipophilic, meaning it pairs perfectly with various fats. The easiest way to get started is to use a full-spectrum CBD Oil tincture, we recommend the Motus Active CBD Power Drops, packed with 1000 mg of hemp-derived CBD and perfect for making your meals even healthier. There are a few things you need to know before throwing on your kiss the CBD cook apron.
Cooking temperature
When whipping up CBD oil recipes at a temperature greater then 320 degrees Fahrenheit, the health benefits can be reduced. This is due to something called phytonutrients which is chemical compound found in full-spectrum CBD oil, phytonutrients are sensitive to heat and can lose it's beneficial compounds if cooked at too high of a temperature. This means when cooking with CBD oil it should not come in direct contact with your heat source to avoid things like evaporation,  so when you're cooking up CBD infused recipes, you should avoid sautéing things like vegetables directly in CBD on the pan or you will be throwing money away.
Adding CBD to a fat carrier
As we eluded to in cooking temperature, when cooling with CBD oil you shouldn't use CBD oil as a direct source of oil, its very important you add CBD oil with a proper fat carrier when it comes to CBD food recipes. If you simply drizzle your CBD oil on to your foods or add it separately it can result in inconsistencies with things such as flavor and effectiveness. CBD oil is fat-soluble not a water-soluble, it's best to combine CBD oil in food with another type of fat based cooking oil. There are lots of oil based fats that you can mix with CBD oil such as olive oil, coconut oil, avocado oil or even melted butter and chocolate.
Gauge your CBD oil for the best recipes 
Each brand of CBD oil can vary in flavor, with each batch tasting a little different. When deciding on a CBD food recipe it's important to remember that when you add CBD oil in food it can contain an easy going flavor with a light aroma but others can have a bitter taste with a stronger aftertaste. So we recommend you sample your CBD oil before you start cooking, if it does have a stronger bitter taste, air on the side of caution and apply less then the recipe recommends. If you don't want to reduce the amount of CBD oil in your foods or are set on adding more CBD oil then the recipe calls for, choose a recipe that contains strong and rich flavors. This way if your CBD flavor is stronger or overpowering, this will make sure the CBD oil in your food doesn't taste differently because of the CBD oil. CBD oils tend to be unfiltered which means it contains more plant compounds, resulting in a stronger aroma and taste. So make sure you test your CBD oil prior and prepare accordingly when choosing a CBD food recipe.
Now that you're a professional CBD Chef, our in house experts have put together a small guide of recipes on how to cool with CBD oil.  Here are Our 6 Amazing CBD Infused Recipes that are perfect for various meals throughout the day.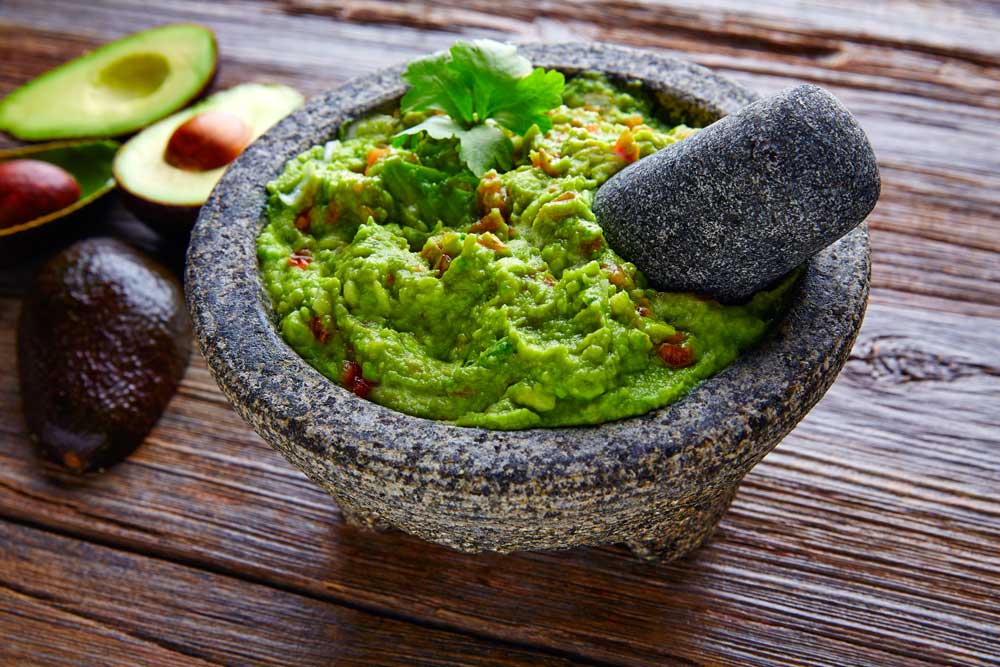 You want to know how to cook with CBD oil but don't know where to start, let's start with an easy one! Always a crowd favorite, Guacamole is an easy to make dish that is packed with nutrients and a fan favorite when it comes to CBD oil recipes. Avocados are already known for their heart health and anti inflammatory benefits. Avocados are also rich in healthy fats which is optimal when cooking CBD infused recipes as it is easily and readily absorbed when paired with fats from an avocado.
Instructions:
Depending on the amount you desire, choose anywhere from 1-4 avocados. One avocado is great for a small serving between two people, while 4 avocados is best for for a larger group. Remove your avocados from its peel and place in a large bowl, with a potato masher or fork mash up the avocados. After you've mashed up your avocados, add salt, cumin, cayenne, garlic, cilantro, onion, tomatoes and lime juice. Then add 10 ml of Verlota CBD Oil (around a quarter to half a tincture). Mix everything together, wrap your bowl with plastic wrap then let sit at room temperature for 2 hours before serving.
Ingredients:
1-4 medium ripe avocados
1 tablespoons lime juice from 1 medium lime
1/2 teaspoon kosher salt
1/2 teaspoon ground cumin
1/4 teaspoon ground cayenne pepper
1/2 cup onion, finely diced
2 small tomatoes, seeded and diced
1 large clove garlic, minced
1 tablespoon fresh cilantro, chopped
1/2 jalapeno, minced
10 ML of Verlota CBD Oil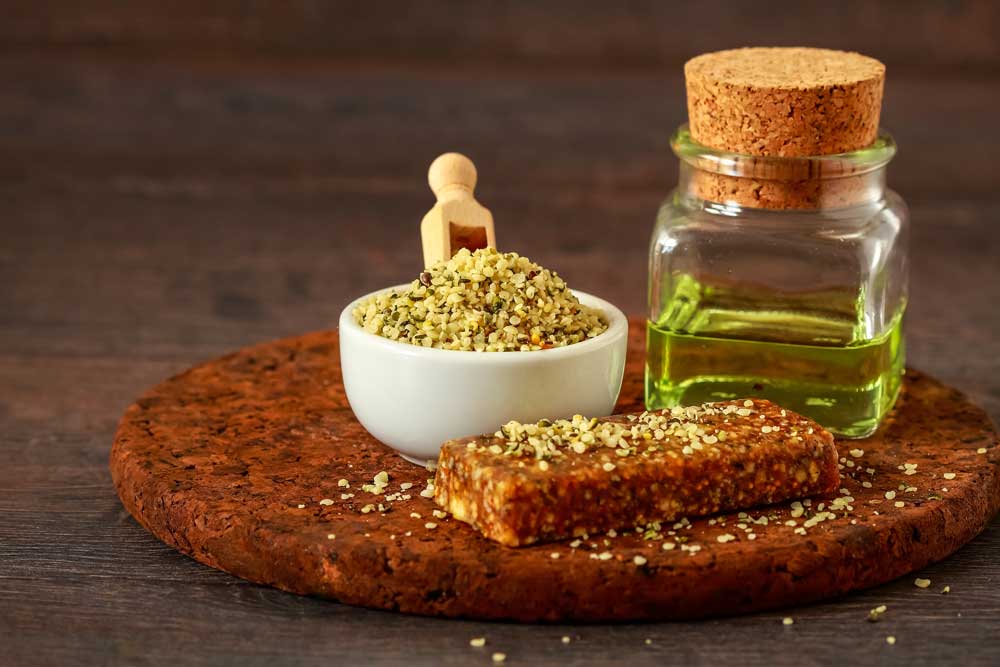 Life can be fast and hectic, finding time to eat properly and more importantly, healthy seems to get harder and harder. Protein bars are a great healthy snack when you are craving something sugary but don't want to eat an entire box of cookies. They are also great when you are planning out your meals for the week, especially for those who are regularly physically active, protein bars can provide you with the nutrient you need to perform at your physical best. With these CBD protein bars your body can recover more quickly returning back to homeostasis faster, while healing and building muscle at the same time.
Instructions:
In a large bowl add one cup of chocolate protein powder, If you only have plain protein powder we recommend adding in some cocoa powder to get that chocolate flavor. You then add hemp seeds, mixed nuts, chia seeds, cinnamon and dark chocolate in a food processor, mixing for 10-15 seconds. Do not over blend, you don't want to turn everything into powder. Set that aside. Now add your dates, coconut oil, nut butter, Verlota CBD Oil and water to a blender then mix until all ingredients are combined. Now combine both mixtures into a large bowl for one final mix. Pour into a large dish and spread evenly, unlike baked good these bars will not raise so choose your desired thickness before before placing in the fridge. After you've placed them in your large dish, refrigerate for 2-3 hours then chop bars up once hardened. These should serve up to 10 bars.
Ingredients:
1 cup chocolate protein powder (or plain protein and some cocoa powder)
½ cup hemp seeds
1 cup mixed nuts and seeds
¼ cup chia seeds
¼ teaspoon cinnamon
25g dark chocolate, chopped
20 dates, chopped
4 tablespoons coconut oil
CBD oil
1 tablespoon nut butter
¼ cup water
Chocolate, Peanut Butter CBD Banana Shake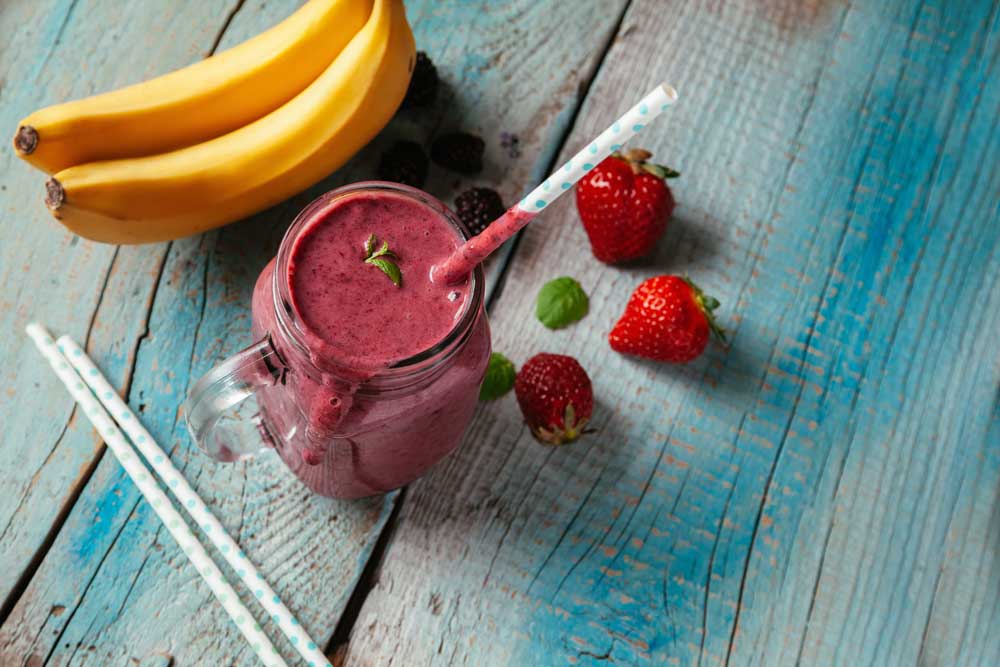 Protein shakes are a great way to get your daily nutritional values and protein intake all in one drink. These shakes are great for breakfast, especially as a meal replacement for those who don't have time to typically eat breakfast. When you buy smoothies from the store they tend to be high in sugar and calories, but when you make them yourself it's a lot easier to cut down on the added sugar.
Instructions:
Making a protein shake is very straight forward, all you require is your set ingredients and a blender, that's it. For this recipe all you need to add to your blender is both water and yogurt, 2 scoops of chocolate protein powder, a banana, spinach, peanut butter, cocoa powder and finally your Verlota CBD Oil. Once all your ingredients are in the blender, process on high until smooth.
Ingredients:
12 oz water, milk, or yogurt
2 scoops chocolate flavored protein powder
1 banana
1 cup of spinach
2 tbsp of natural peanut butter
1 tbsp cacao nibs or dark cocoa powder
10 ml of Verlota CBD Oil
CBD Chocolate Chip Cookies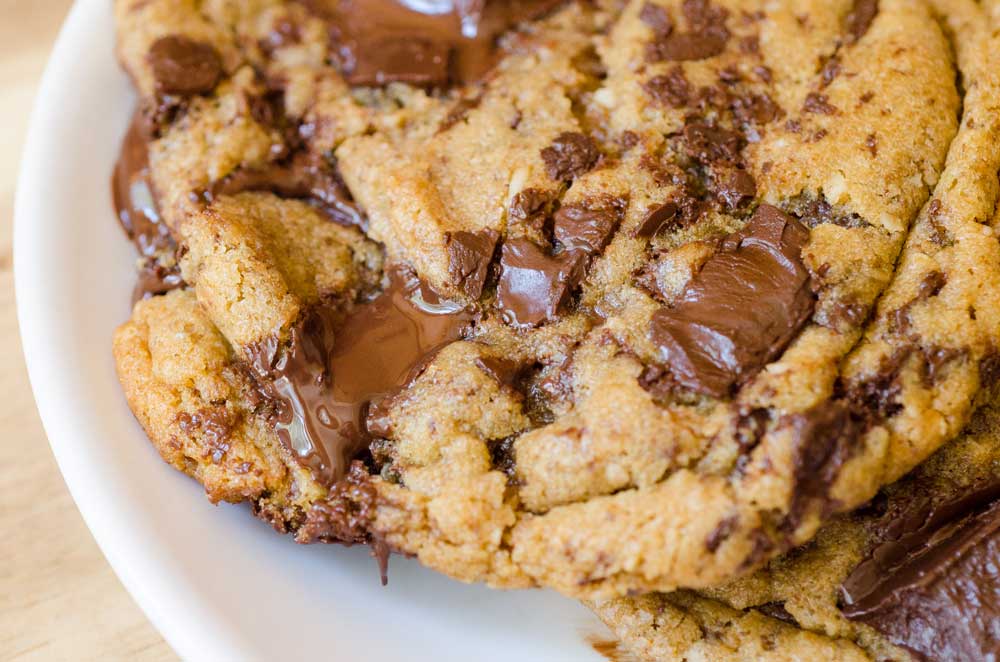 Chocolate Chip Cookies are one of the greatest food options in the world, especially when you make them packed with nutritional goodness. These CBD infused cookies are great option when your body is craving carbs and calories after a hard workout, especially when they are packed with CBD to help your body rest and recover.
Instructions:
First step is to put your oven on at 350F, while that heats up line a baking sheet with parchment paper. Then take your almond butter, sugar/honey, flour, coconut flour, cinnamon powder, vanilla bean paste, egg, baking soda, chocolate chips, Verlota CBD Oil and mix them into a large bowl. After you've mixed your ingredients together, lay out 10-20 uncooked cookies on your try and bake in the over for 20-25 minutes. Now enjoy your healthy CBD infused chocolate chip cookies just like grandma used to make them.
Ingredients:
½ cup almond butter
½ cup coconut sugar or honey
1 cup almond flour
1 tbsp coconut flour
1 tsp cinnamon powder
1 tsp vanilla bean paste
1 large egg
1 tsp baking soda
¾ cup dark chocolate chips
20 ml of Verlota CBD Oil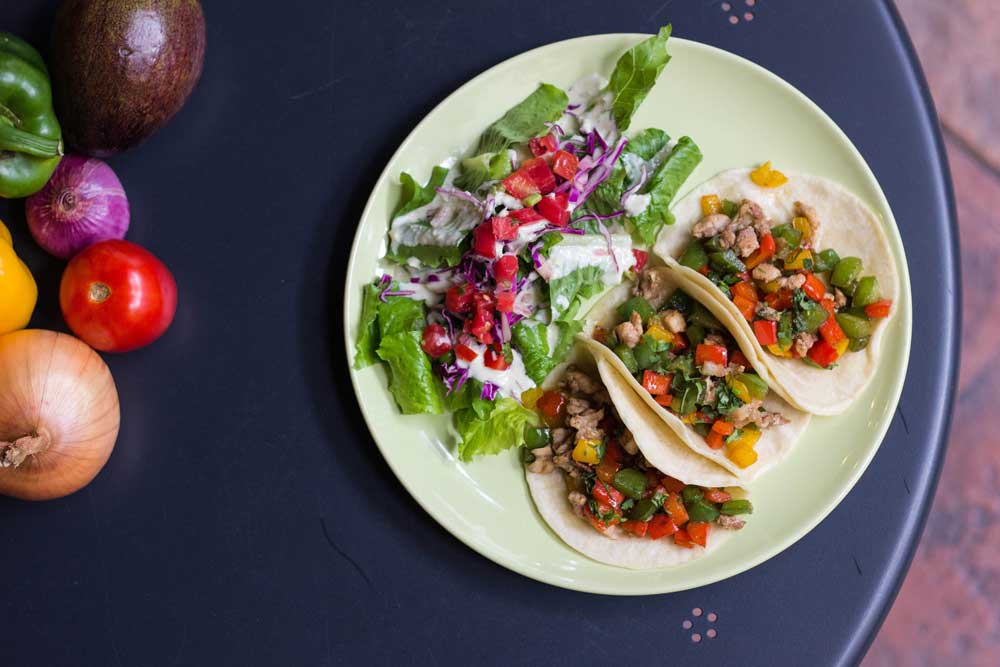 To round off our list of CBD infused recipes we've picked a restaurant favorite that is sure to be a hit at home. CBD infused tacos are a great dinner option that offers great nutrition, an abundance of flavor and a healthy dose of CBD. One bite will have you feeling like your on the beach and your second bite will have your body totally relaxed, sinking into the sand.
Instructions:
Your first step is to get a large bowl, mixing in your lime juice, chili powder, ground cumin, cayenne pepper and your Verlota CBD Oil. Once you've mixed that together begin to coat your desired fish, spreading evenly over your pieces of fish. Let your seasoned fish sit for 15 minutes, adding both salt and pepper to taste. Cook fish on a large pan, frying each side for 3-5 minutes, then let sit for another 5 minutes before pulling the fish apart with a fork. After your fish has finished, mix together in a large bowl mayonnaise, lime juice, cilantro and more Verlota CBD Oil. Finally place fish on tortillas with cabbage and avocado, squeezing lime juice on top.
Ingredients:
Lime juice (1 lime)
2 teaspoons chili powder
½ teaspoon ground cumin
½ teaspoon cayenne pepper
1 ½ lb. cod
salt
pepper
8 – 12 corn tortillas
1 avocado
¼ cup mayonnaise
2 tablespoons lime juice
2 tablespoons chopped cilantro
2 cups shredded purple cabbage
40 ml of Verlota CBD Oil
Frequently Asked Questions
What Can You Make With CBD?
You can make ANYTHING with CBD! Whether it is breakfast, lunch of dinner, you can add CBD to any recipe you want. 
How is CBD Best Absorbed?
CBD that you eat or swallow requires digestion. This means that most of the CBD gets broken down by your liver before circulating into your bloodstream. Because of this, CBD products like gummies, drinks, softgels, and capsules have a lower bioavailability than products like tinctures, which get absorbed more quickly into your bloodstream under your tongue.
Using a tincture, spray  to absorb CBD in your mouth is a popular method of taking CBD. It has slightly more bioavailability (~20-30%) than swallowed CBD (~13-19%). This is because it's a quicker and more direct route to the bloodstream, and it also avoids the liver's first pass effect, which lowers CBD bioavailability.
CBD topicals like balms, salves, and lotions that you rub into your skin have fairly low CBD bioavailability. However, they are typically used for site-specific discomfort so it's unfair to compare to their bioavailability to that of other methods, which are typically used to manage mood, stress, sleep, and more.
Can CBD Food Recipes Make You Gain Weight?
Although CBD may have a beneficial effect on appetite and weight loss, it may conversely cause weight gain. CBD has been shown to increase appetite in some studies. In fact, one of the most common side effects of CBD treatment is appetite change